NHRA & IHRA Approved Chassis work done at affordable 
prices. Quality work at prices you can afford has been our 
goal for over 33 years. We can do this because chassis work 
is our only business, not a sideline or hobby. We Staff our 
own design & engineering department, Certified welders, 
Machinists, & skilled craftsman. 
        

 

No kits in this shop!! 
        

 

No job is too big or too small. We offer chassis service
From PROSTREET To PROSTOCK, chassis diagnosis, chassis 
adjustment, chassis repair & revisions.
    

KKRC was inducted in the national directory of the 
"WHO'S WHO IN AMERICA" BOOK IN RACECAR DESIGN & MANUFACTURING
    

We also make custom race headers, custom 3 inch stainless 
exhaust, plus more.
We now fill NOS bottles!!
Click on our link to left for full line of aluminum radiators. Most all models in stock. Custom units built to order. Order today online.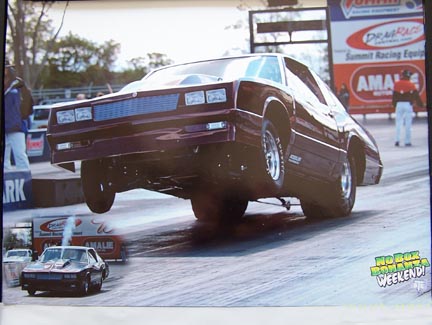 JUST A FEW OF OUR CUSTOMERS:
SUPER STREET - JEFF MCMILLEN (TRW ALL STAR) - 65 Mustang
JON MARQUARDT - 67 GTO
SUPER PRO - GARY PASCHEN - 99 Corvette
TERRY NEWBAUER - 41 Willys
JOHN SAHLI - 82 MONTI CARLO
BOB STOUT - 79 Sunbird, 73 GMC Truck
TERRY CRITES - 67 Camaro (BEST ENGINEERED '93 AUTORAMA)
TOP SPORTSMAN - TIM MOLNAR - 97 Camaro (NRP & '42 '97 CLASS CHAMP Q-16)
Top Rated IHRA National event performer
RAY SCHULER - 97 CUTLASS - Top rated IHRA National event performer
JEFF MCNALLY - 99 FIREBIRD TRANS AM Top Rated IHRA National event performer
JEFF SOLYAN - 68 NOVA "THE ANIMAL"
PRO STREET - TERRY CRITES - 58 Chevy (SUPER CHEVY EDITOR CHOICE)
MIKE SLACK - 73 VEGA & 90 SS 454 PROSTREET PU
FRANK GIZZO - 64 Comet
RICK GIZZO - 63 Falcon, 67 GTX
DAN JAMES - 57 Chevy
BRAD NICHTER - 66 GTO (OCT '98 CARCRAFT MAG.)
CHRIS JOYCE - 67 CHEVELLE
JIM WELCH - 67 CHEVY II
VERN YONTZ - 67 Dart
PATRICK BARNHILL - 71 Nova
FRANK BORRELLI - 87 BUICK GNX, 72 ROADRUNNER
LENNY BORRELLI - 55 BELAIR, 70 CHEVELLE SS
GARY PASCHEN - BLOWN 55 CHEVY
ALLEN KAINAC - 68 CAMARO
KEVIN DUPONT - 68 CHEVELLE
JOHN McMAHON - 66 CHEVELLE
TIM BROWN - 2014 CAMARO
<![if !supportEmptyParas]> <![endif]>